Follow the evolution of some of our projects
A spacious traditional style ensuite provides a challenge with a transom window.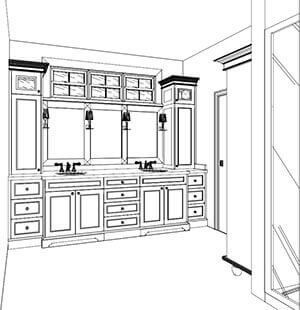 We were commissioned to design and manufacture the custom cabinetry for this magnificent newly built home in the South End of Halifax. The homes typically found in this area are very traditional style, older homes. Although this was a new construction, the clients wanted their new home to blend into the neighborhood. This resulted in a traditional style home requiring traditional style cabinetry. We designed and manufactured the cabinetry for all the bathrooms, kitchen, bar, living room, and bedroom window seat. The ensuite vanity is the room we want to feature due to the challenge the transom window posed during design and how beautiful it turned out in the end.
View the full package of drawings the client received for this project.
A modest sized kitchen gets modern flare and practicality.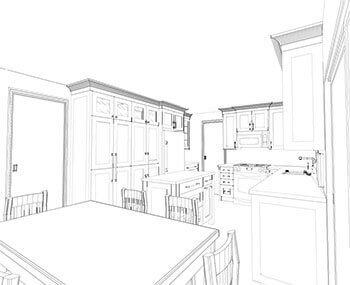 This kitchen had cabinetry that was original to the home dating back to early- mid 1980's. The original kitchen lacked in function and practicality, where they were literally falling apart. During the initial meeting, the clients expressed to us that they would like a more streamlined style and open up the space for better flow and function, and losing storage space was not an option. These clients love to entertain and do so on a regular basis. They also have a growing family with adorable grandchildren who visit regularly.
This kitchen now gets a lot of use and with lots of people gathered around, beauty, function, and flow are very important.
View the full package of drawings the client received for this project.
WHY CHOOSE HALIFAX CABINETRY?
Quality
We are dedicated in using only the best of quality materials so our products stand the test of time.
Service
Halifax Cabinetry is dedicated in providing the best service possible throughout the process from design to installation stage.
Ability
It all starts with our in house designer who is very talented in her ability to take a difficult room and create an interesting space with functional and attractive cabinetry. Once the drawings have been approved, the project is handed to one of our two master cabinet makers that work on our projects from start to finish using highly specialized precision machinery to create your cabinetry (including installation). We also pride ourselves on our wide range of knowledge and ability to do different finishing techniques.
Customization
We can personalize our cabinetry to accommodate your lifestyle, wants, and needs. We also value our clients' input in achieving the desired design that will best suit their needs
Stability &
Experience
We are proud to say we've been in business since 1995, during which we have been very busy fine tuning our skills and keeping on the leading edge of cabinetry design and manufacturing. Since 1995 we've relied solely on word-of-mouth to generate business, which means it is critical we please our clients beyond expectations.
Design
Our very talented designer holds her Diploma in Interior Design from The Interior Design Institute and has many years of experience designing cabinetry. She has the ability to utilize her talent and knowledge to create the best design for your space. She has designed cabinetry for all rooms in a house such as, kitchens, bathrooms, home office, laundry room/craft rooms, bedrooms, living rooms etc…. We also utilize an Auto Cad design program which provides outstanding design flexibility along with the best graphics available, whether in color or in black and white.
Responsiveness
We feel it is very important to respond to our clients and anyone who is dealing with us in a very timely manner. We pride ourselves in always being available to answer questions and if not available, we return emails and phone calls as soon as possible.
Local
We are a local business in the Halifax area and have been since 1995. All of our manufacturing is done in-house, which allows us to have a lot of control over accuracy, quality, and timing.